Sedation Dentistry - Bloor Dufferin Dental Centre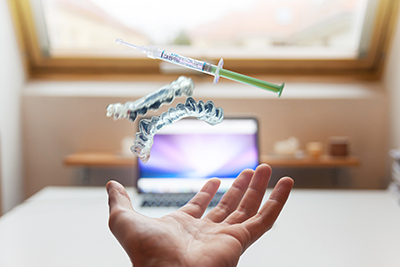 Is Sedation Dentistry for you?
Sedation dentistry is a term that refers to the use of anesthesia during treatment to put patients into a relaxed state, almost like sleep. Sedation dentistry is often used during procedures that require an extensive amount of time in the treatment chair, and sedation is ideal for patients who exhibit dental phobia or have difficulty controlling their movements (this includes children). While sedation dentistry implies that patients are unconscious, this is usually not the case. Some forms of sedation dentistry simply alleviate anxiety or put patients in a sleep-like state, so that little is felt or remembered from the dentistry procedure.
Do you have Dental Phobia?
Do you have fear of needles or other dental anxiety? Do you require a complex treatment performed during a single, pain-free visit? Our dentist, Dr. Tom Nguyen will be able to tell you if you are a candidate for moderate sedation with oral sedatives or nitrous oxide, or deeper sedation with intravenous drugs.

Book an appointment with Dr. Nguyen at Bloor Dufferin Dental Centre and find out if you are a candidate for sedation dentistry.
Nitrous Oxide Sedation
In one form of conscious inhalation sedation, nitrous oxide gas (also known as laughing gas) is used to induce a state of relaxation. A local anesthetic will be administered in combination with nitrous oxide sedation to eliminate pain.